Кинотеатр / Ежедневник / 10.05.2019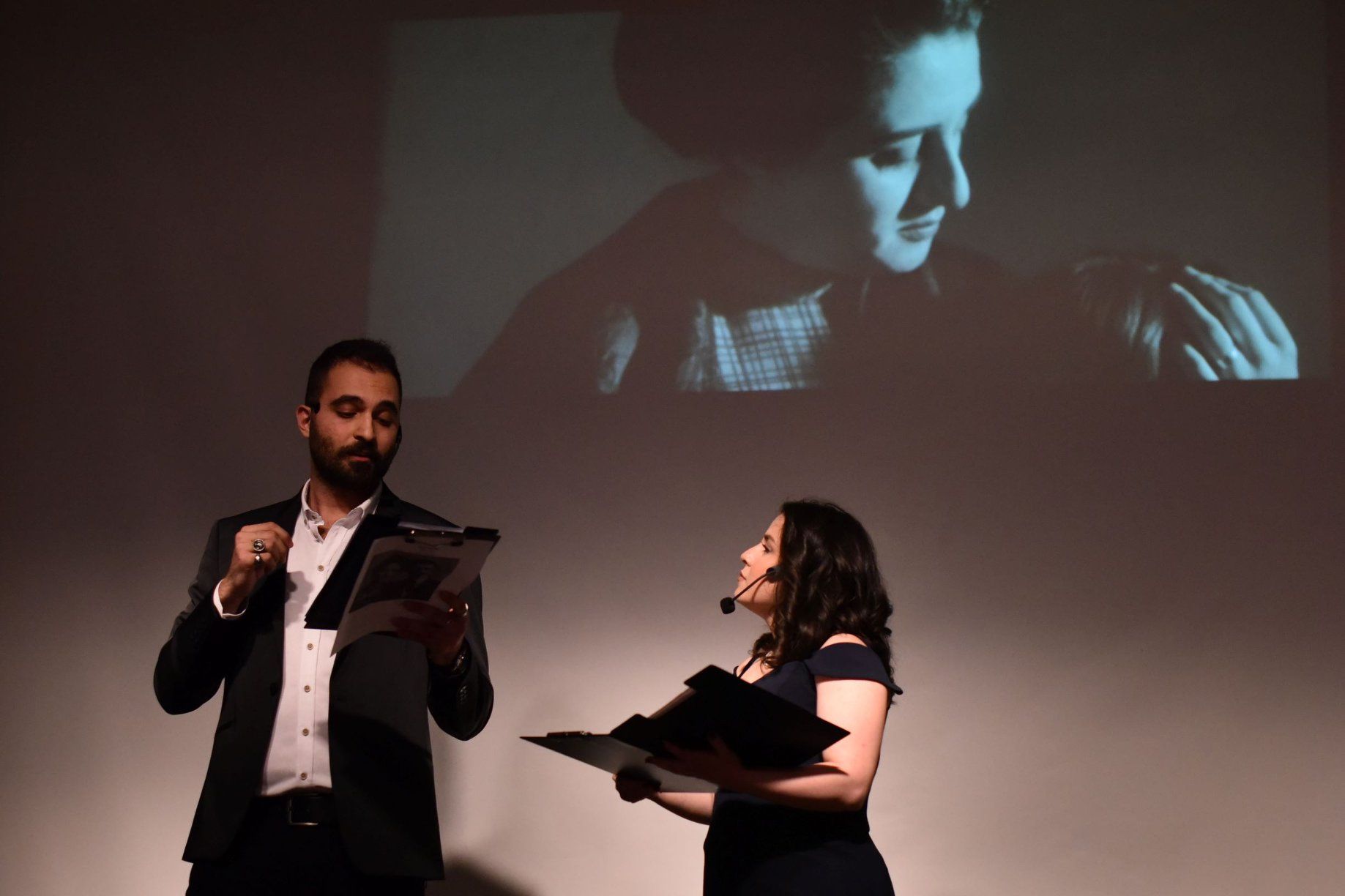 Hrant Dink foundation - Yeghya and Lara performing an emotional selection of letters Photo credit: Tara Demircioğlu, Kayané Antreassian
«Taniel», a short arthouse film about the last months of the great Armenian poet Taniel Varoujan has been screening around the globe and winning awards at international film festivals with screenings at prestigious venues like the Lincoln Centre New York, Egyptian Theatre in Hollywood and the Armenian Genocide Museum-Institute in Yerevan.
The film's last two screenings were particularly special, as they were tracing Varoujan's footsteps in two cities – Ghent, a beautiful small town in Belgium where he was a student the place that shaped his style of writing and Istanbul, his Bolis, where he lived and worked till his arrest on 24 April 1915.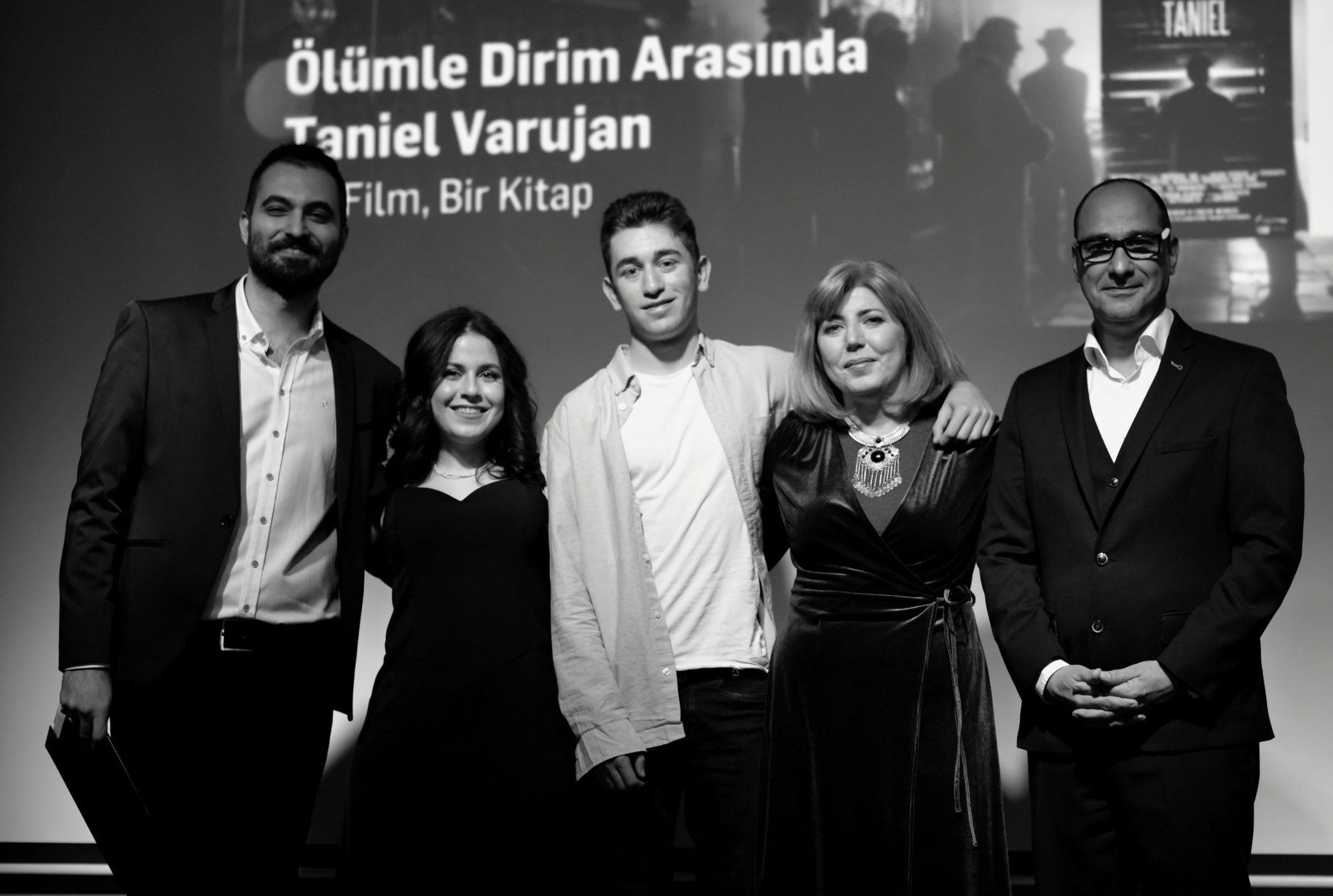 Hrant Dink foundation - Yegya Akgun, Lara Narin, Gregory Barseghyan, Tatevik Ayvazyan, Garo Berberian Photo credit: Tara Demircioğlu, Kayané Antreassian
Istanbul, Hrant Dink foundation, 19 April 2019
Istanbul screening took place in the packed cinema of the Hrant Dink Foundation on 19 April 2019 – a sadly fitting place named after another great Armenian in Turkey whose life was taken away. The screening of film was followed by a live performance by Yegha Akgun (Varoujan's voice in the film) and Lara Narin (Istanbul-based actress and musician), reading the poet's works and letters. There were some emotional moments in the hall, when Yegya and Lara read Varoujan's and his wife Araksi's love letters to each other, with the young Araksi saying that she'll be the happiest person ever if she can spend the rest of her life with him. Little she knew that they would only have a few more years together, until his arrest and cruel murder.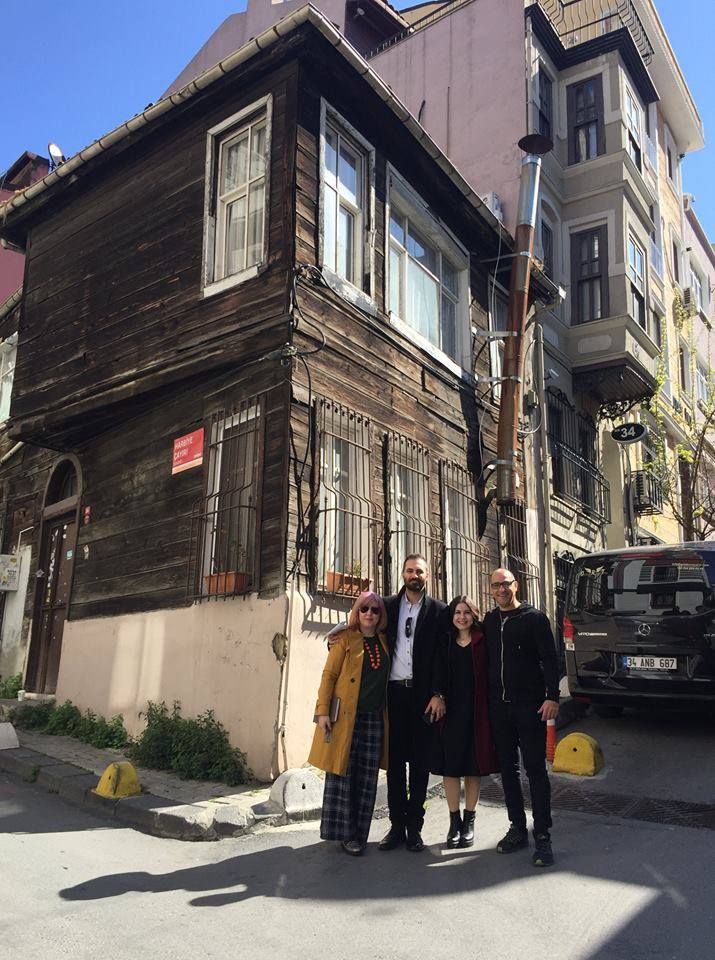 Tatevik, Yegya, Garo and Lara in the Istanbul neighbourhood where Varoujan lived Photo credit: Tara Demircioğlu, Kayané Antreassian
There was an extensive panel discussion with the filmmakers – director Garo Berberian and poetry producer Tatevik Ayvazyan talking about creation of the film; and the evening ended with a wonderful launch and celebration of Varoujan's last book, The Song of the Bread («Հացին Երգը»), which was published by Aras publishing house in Armenian and Turkish.
It's important to note that the film was subtitled in Turkish specifically for the Istanbul screening, because the filmmakers wanted the story to be accessible to the Turks and other non-Armenian speakers. Before 1915 Taniel Varoujan was enriching the Ottoman culture as well, he was not merely an Armenian national poet, but someone of international stature and understanding of humanity. One of the results of the Genocide and Turkish nationalism is also the destruction of Armenian culture and cultural icons. Director Garo Berberian says that it's painful that one cannot find a plaque on the house where he lived, or a statue in his home village of Perkenik, or poetry books in the Istanbul Library. After his murder in custody the traces of his existence have been erased from modern Turkish history, this is not just a loss for Armenians but modern Turks.
Taniel's team was still busy the next day after screening, as it was Varoujan's 135th anniversary, and they organised and filmed a poetry reading near his last home, which he left never to return. Yegya sounded particularly poignant and emotional, reading «To the Muse», about the dark prophecy about poet's fate. It must have been a wonderful feeling to bring his words alive in the place he would have walked every day.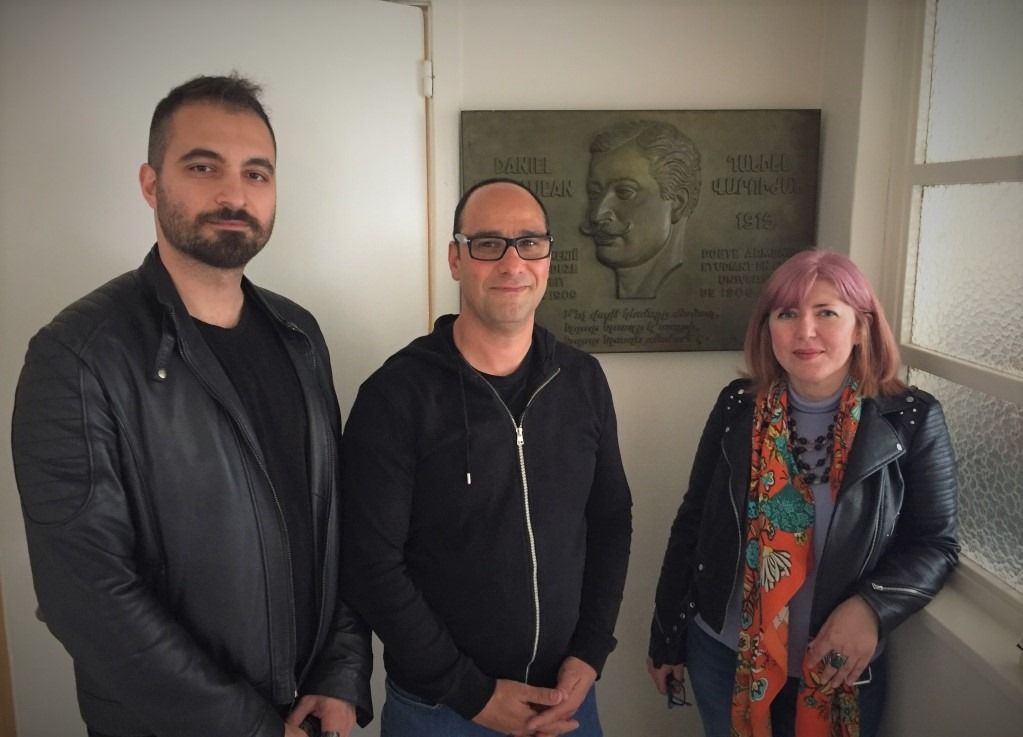 Yegya, Garo and Tatevik in front of Varoujan's memorial plaque at the Ghent university Photo credit: Tara Demircioğlu, Kayané Antreassian
Ghent, University Aula, 3 May 2019
2 weeks on, the team was following young Taniel's footsteps in the narrow cobblestone streets and around canals of Ghent. The poet was a student there in 1906 -1909, learning a range of subjects, reading, developing, expanding his world outlook.
«Taniel» was invited to open a new and major cultural event – the inaugural Taniel Varoujan lecture, founded by the Programme of the Armenian Studies. The event, organised with the support of the Ghent University, included the screening of Garo Berberian's film, along with a lecture and exhibition. In addition to filmmakers, actor Yegya Akgun flew from Istanbul to perform Varoujan's words from poems in the city when they were written (2 of his major books, «Shivers» («Սարսուռներ») and «The Heart of the Race» («Ցեղին Սիրտը») were mostly written in Ghent); and writer Ben Hodgson also joined the team on stage after the screening, reading his poem «Indelible». It is used in the film as a narrative of the story and read by the Hollywood giant Sean Bean.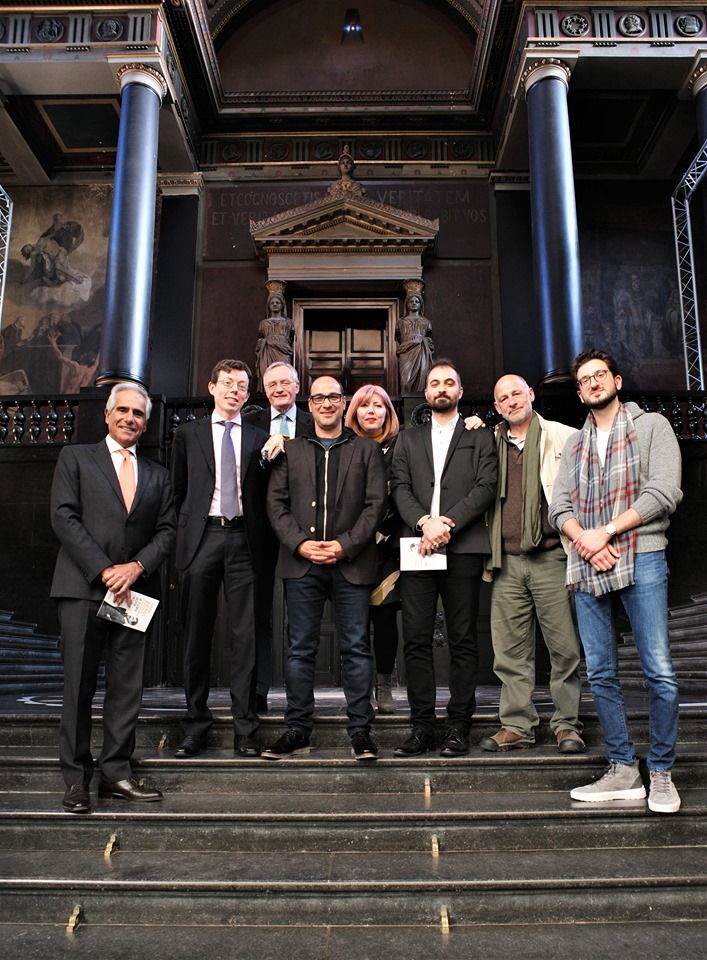 Andre Gumuchjian, Peter van Nufellen, Theo van Lint, Garo, Tatevik, Yegya Akgun, Ben Hodgson, Sahag Arslanian Photo credit: Tara Demircioğlu, Kayané Antreassian
Standing in the same exquisitely beautiful University Hall – Aula, where Varoujan had lectures and graduated, poetry producer Tatevik Ayvazyan described how emotional she felt wondering if the young poet would ever imagine that 100 years on people will gather to celebrate him in an event, devoted to his words speaking of love, humanity and the fragility of life.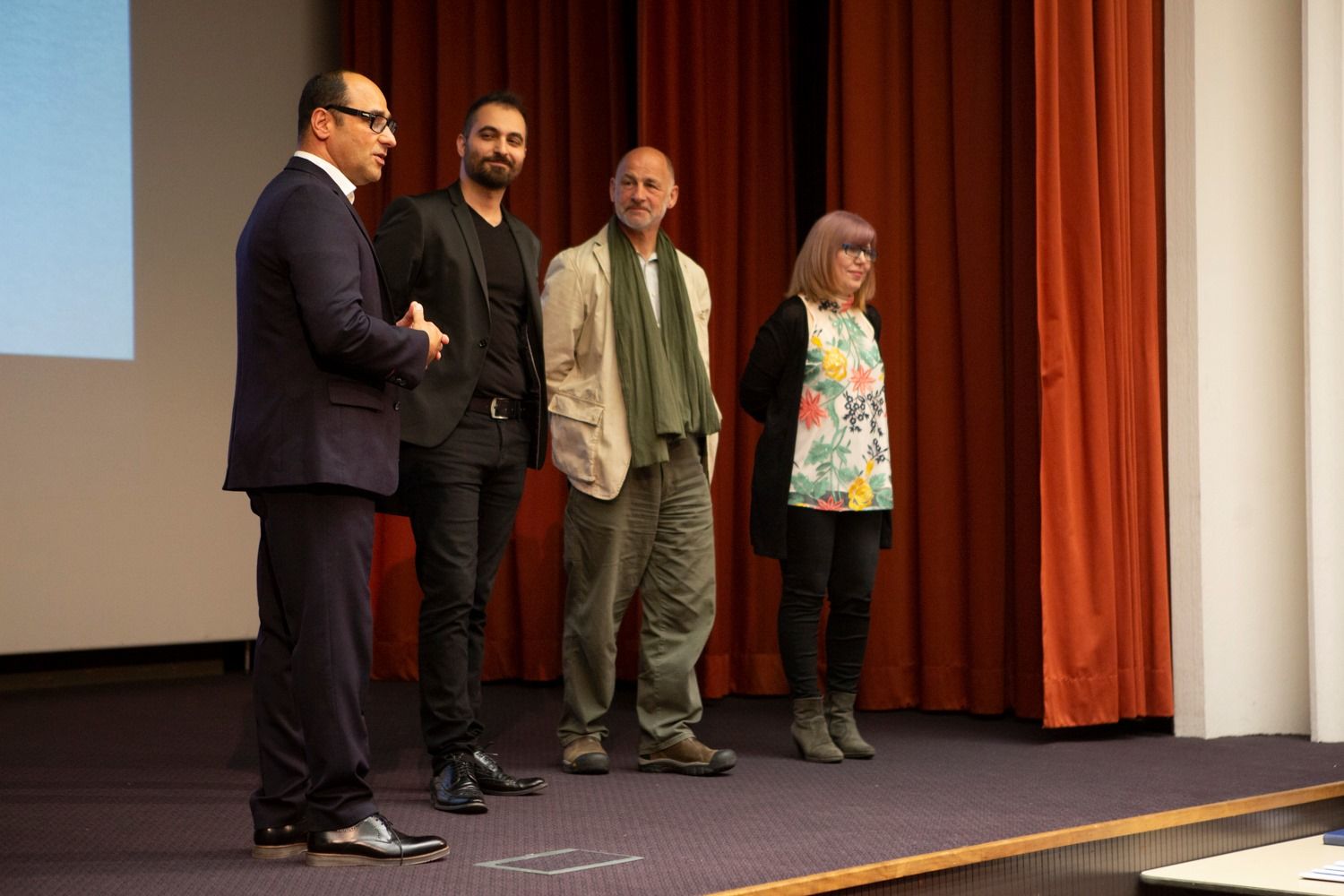 Screening in Ghent - Garo Berberian, Yegya Akgun, Ben Hodgson,Tatevik Ayvazyan Photo credit: Tara Demircioğlu, Kayané Antreassian
The event saw a wonderful turnout of Armenians and non-Armenians from the local community to far off California, student union representatives, sponsors of the initiative – Andre Gumuchjian and the Arslanian family; prominent academics such as Calouste Gulbenkian professor of Armenian Studies in Oxford Theo van Lint, and Ghent's own Professor Peter van Nufelen, an ancient history specialist with an interest in classical Armenian, amongst many others.
The film is still continuing its journey, with a imminent screening in WAFF festival at the States, followed by Cyprus International Film Festival, and a return to Armenia in June.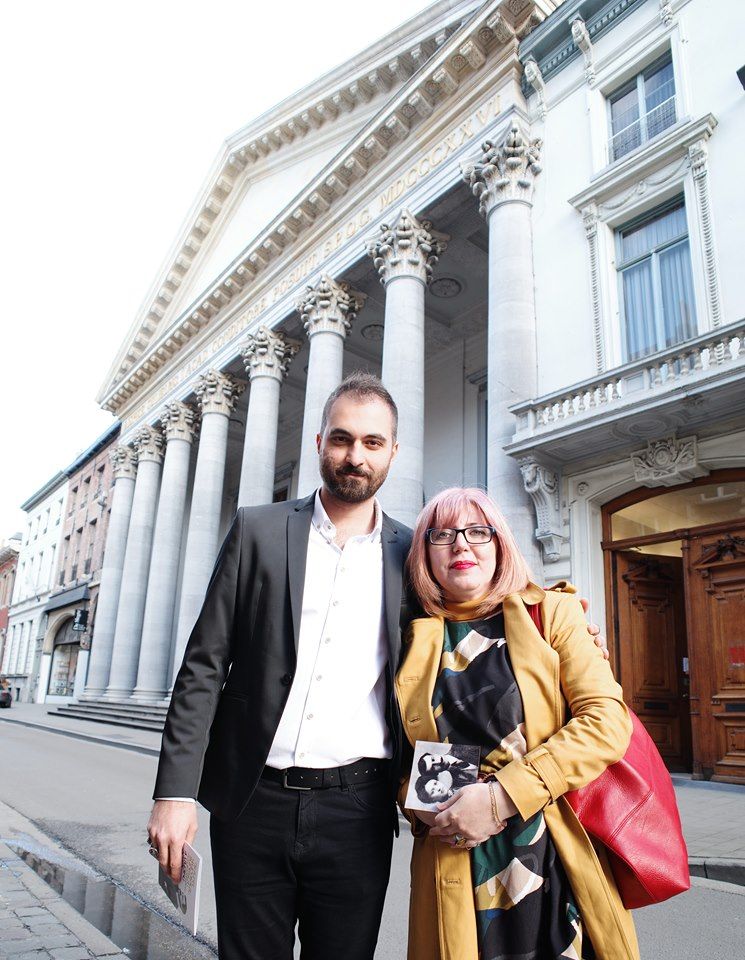 Outside the University Aula in Ghent, Yegya and Tatevik Photo credit: Tara Demircioğlu, Kayané Antreassian
Film website: https://tanielfilm.com/
Facebook: https://www.facebook.com/RebelRepublicFilms/
Trailer: https://www.youtube.com/watch?v=F7bsDCqpRfA